NEWS
What's Happening at Heritage Family Law
Jeffers Joins Heritage Family Law and Expands Family Law Practice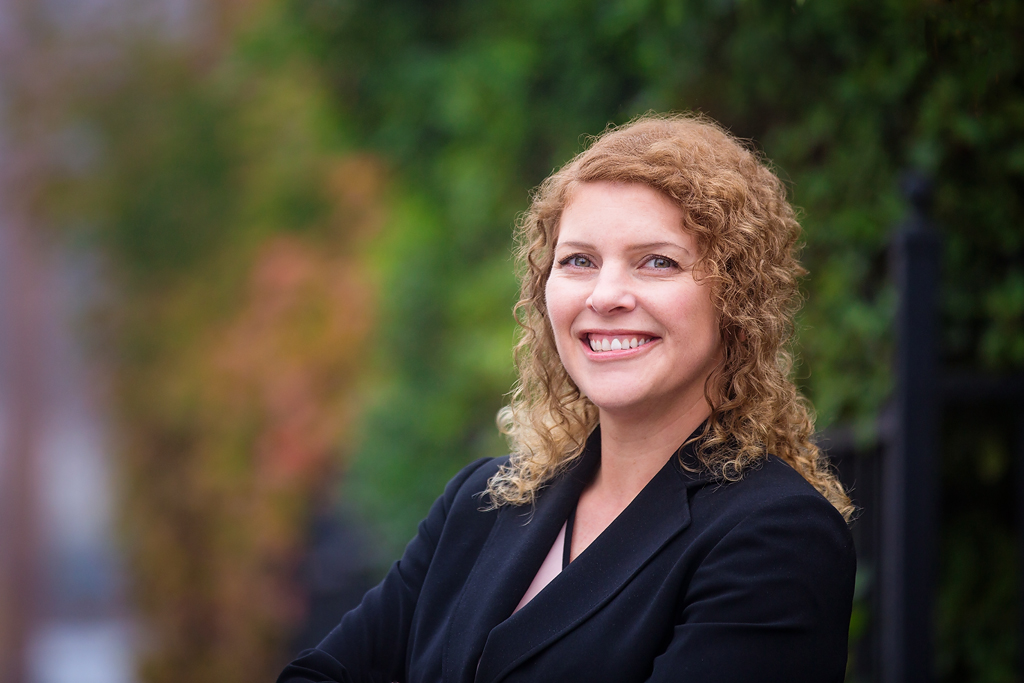 =======================
FOR IMMEDIATE RELEASE
=======================
Vancouver – WA – October 16, 2018 – After a regional search, Heritage Family Law is pleased to announce the addition of Brandy Jeffers to the firm. She brings experience, professionalism and a desire to serve clients that complements the existing Family Law Practice Group which includes Glenn Slate and Anna Russo.
Brandy works exclusively in the area of family law. She is a strong advocate for her clients during negotiations and when arguing in front of judges and juries. "Because of her unique and valuable experience in criminal defense since 2005, she also brings a unique and valuable perspective on the practical aspects of families adjusting to change," said Managing Partner, Glenn Slate, who also specializes in Family Law matters.
About Heritage Family Law
Heritage Family Law aims to be the most respected family law firm in Southwest Washington. The firm specializes in family law matters. Our attorneys work together with individuals to proactively manage a supportive divorce and with transition coaches who will help connect clients to screened therapists, financial planners, and realtors. They can also help create budgets, find daycare or even help with finding a new career.
The Family Law attorneys of Heritage Family Law represent individuals throughout Washington, Oregon and the Pacific Northwest, including Vancouver, Camas, Washougal, Longview, Kelso, Woodland, Portland, and Clark, Cowlitz and Multnomah Counties.
For more information about Heritage Family Law, please see the Media Contact information below.
===============
MEDIA CONTACT
===============
Coni Faulkner, Director of Administration
(360) 326-2372
Fax: (360) 362-9010

https://www.HeritageFamilyLaw.com
—-
Heritage Family Launches New Website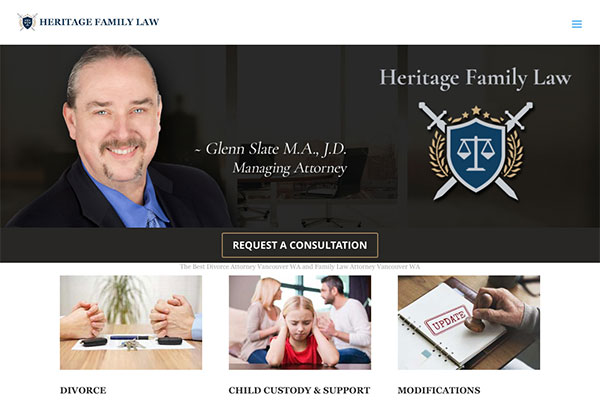 =======================
FOR IMMEDIATE RELEASE
=======================
Vancouver, Washington, October 29, 2018 – A leading Vancouver, Washington based family law firm has launched a new site to showcase its services for local clients. After partnering with MegaVoxx Digital Marketing for the site design, the result is a superior user experience and a comprehensive educational resource on family law in the state of Washington.
More information can be found at https://www.HeritageFamilyLaw.com.
The site explains that Heritage Family Law prides itself on its high-quality service, and strives to be the most respected family law firm in Southwest Washington.
A wide range of family law services is provided on the attorney website, including professional help and guidance with divorce cases, child custody and support, and domestic violence protection.
In addition to this, local clients can get services related to child support modifications, paternity cases, collaborative law, and relocation. One of the valuable new features is the availability of an informative ebook titled, "7 Myths of Divorce in Washington State." A free download is available to the public on the site.
Heritage Family Law serves clients throughout Washington and Oregon. The team explains that when going through a family law case, it can be highly important to get in touch with a legal expert because they know the system and can help to get the best results for each client.
For many people, cases like divorce can be highly emotional, with upheaval, change, endings, and new beginnings. Family law matters are a complicated part of the justice system, and the attorneys at Heritage Family Law can ensure clients get a fair resolution that protects them, their property, and their children.
The firm states: "Attorney Glenn Slate has handled over a thousand family law cases so far in his career. He prides himself on his knowledge and experience at family law, his ability to get opposing parties to become less positional and damaging, and his successes at helping his clients make wise and rational decisions during one of the most traumatic and emotional times of their life."
About Heritage Family Law
Originally formed in 2007 as Slate and Jones, the company grew into a two-state, multi-branch firm. After a hiatus from 2014-2016, the founding attorney and managing partner, Glenn Slate, moved back to Clark County in Washington state, where headquarters were re-established and renamed as Heritage Family Law.
===============
MEDIA CONTACT
===============
Coni Faulkner
(360) 326-2887

https://www.HeritageFamilyLaw.com
—-
New Educational and Informative Ebook Published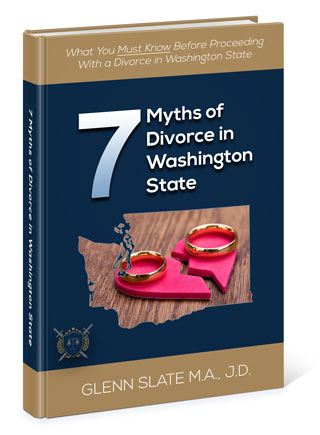 Heritage Family Law is proud to announce the release of a new ebook by Glenn State.M.D., J.D. entitled, "7 Myths of Divorce in Washington State."
Family law is one of the most complicated and misunderstood parts of our legal system. Every day in court, judges must inform and educate people who are trying to get divorced, modify their custody arrangements or relocate to another state. It is a frustrating process for everyone, full of heartache and fear.
This book was written to help those families involved with the court, understand their rights and be able to have confidence in their future. So often, a bitter and angry spouse can make all sorts of claims that sound scary and are meant to intimidate their partner into giving them what they want. Things like, "You'll never see the children," or "This is all my money, and if you leave, you leave with nothing."
Mr. Slate shared this invitation, "I have chosen to highlight the seven most popular myths that abound in family court. Recognize there are many more misconceptions and you likely have some of your own. Your best decision is to hire an attorney who can navigate these complicated waters for you. Call me and let's talk. I'd like to help you create a brighter future for you and your family."
The book has seven powerful chapters. Here's a listing of them:
MYTH #1 – "DIVORCE HAS TO BE A BATTLE"
MYTH #2 – "MOTHERS ALWAYS GET CUSTODY"
MYTH #3 – "CHILDREN CAN PICK WHO THEY LIVE WITH WHEN THEY TURN 12"
MYTH #4 – "CHEATING SPOUSES ARE PUNISHED IN COURT"
MYTH #5 – "I CAN'T GET DIVORCED BECAUSE MY SPOUSE WON'T AGREE TO IT"
MYTH #6 – "THE PERSON WHO MADE THE MONEY
 KEEPS THE MONEY"
MYTH #7 – "I DON'T NEED AN ATTORNEY"
This informative new ebook is available as a free download to everyone visiting the HeritageFamilyLaw website.
See the info below to get your copy now.
Get This Vital Information Now!
Learn the seven myths you need to know before filing for divorce in the state of Washington. Many of these may surprise you, but you need accurate information on such a serious issue.
Click the button below to download your free copy of this educational ebook by Glenn Slate M.A., J.D.
Let's Explore Your Options.